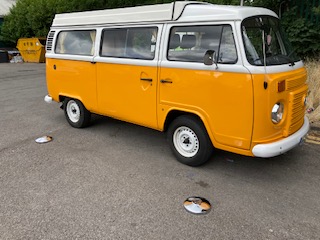 VW Campervan Tyres Fitted in E17
VW Campervan
Tyres fitted in E17
My name is `Rashid` and my company is
`East London Tyres`
. 
We are a mobile tyre service.
Many customers have used our service over the years and they have entrusted us to fit their tyres,
whether its for campervans, caravans, cars or vans we are at your service! 
Different customers have different requirements, one such customer needed all 4 tyres changed on their VW Campervan. They told us that some of the garages they had approached did not stock the tyres for their vehicle. Tyres that were required were 185/14C, after making a few enquiries i called the customer to tell them that we would have their tyres the following day. One of the reasons we can offer this service is because we have a strong supplier base from which to source tyres, all brands and all types, commercial, van, car and caravan.
Mobile Tyre Fitting E17
Customer was local to me in the Walthamstow area so we decided to meet at a mutually convenient location to fit the tyres. Myself and our customer met at the agreed time. It was a nice warm day, perfect for working outdoors! The tyres were a 185/14C which are not always readily available, but we had no trouble sourcing them. A common issue with tyres on caravans, campervans, motorhomes etc is that tyres have plenty of legal tread, but they start cracking and perishing. These vehicle are not usually a customers daily driver, so if the vehicles are parked up for long periods of time the rubber starts to harden, hence the cracking. All of the older tyres will be taken away for recycling. New tyres were fitted and balanced and tyre inflated to the correct pressures.
If you`re in the market for new tyres for your campervan, please contact us for a no obligation quote. Mob:07966558652 Tel:020 3488 5764.