Vauxhall Vivaro Tyres fitted in Romford RM3
Vauxhall Vivaro Tyres
Vauxhall Vivaro Tyres fitted in RM3.
My name is `Rashid` and my company is
`East London Tyres`
. 
We are a mobile tyre service.
We are based in East London, we cover Romford and the surrounding areas.
Car, Van or 4x4 tyres, we can supply and fit at your location, saving you time and money.
Busy Courier driver had hit the kerb and damaged the front near side tyre on their
Vauxhall Vivaro
in Romford. Common tyre size for the Vivaro is 205/65/16C which we had in stock. We gave the driver an ETA of 40 minutes.
Mobile Tyre Fitting Romford
Attending to motorists stuck on the side of the road with damaged tyres is a large part of our work, some of the reasons for this are :
Vehicle has impact with traffic island
Impact with kerb
Hits pothole
Tyre suffers a blow out
Slow Puncture
Damaged valve
Metal or glass embedded in tyre
There are many others, but i just highlighted the most common one`s. Once tyre was in the van i headed to the customers location in Romford, i gave an ETA of 40 minutes, but got there in 30 minutes. Arrived on site, driver had many more drops to make so was glad i was able to assist at short notice. Damaged tyre had a gash on the side where it had impacted the kerb, driver told me that he only had the tyre changed on the van recently, which is a shame. Old tyre removed from the rim, and a new valve fitted. As its an old steel wheel with signs of rust i gave it a clean and applied bead sealant to minimise any chance of leaking. New tyre mounted on rim and balanced. Fitted back to vehicle and all other tyre pressures checked. Job completed, driver can carry on with his drops. For mobile tyre fitting in Romford and the surrounding areas please call us `
East London Tyres
` on..07966558652. [caption id="attachment_1406" align="aligncenter" width="225"]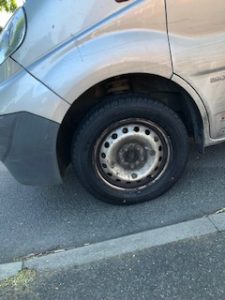 Vauxhall Vivaro tyre fitted in Romford[/caption] [caption id="attachment_1405" align="aligncenter" width="225"]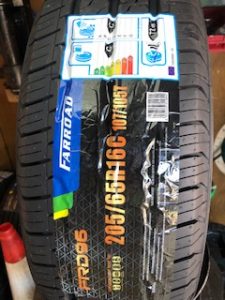 205/65/16C tyre fitted to Vauxhall Vivaro.[/caption]