Nissan Qashqai Tyre in Greenwich SE10
Nissan Qashqai Tyre
Nissan Qashqai Tyre fitted in Greenwich SE10.
[caption id="attachment_669" align="alignright" width="293"]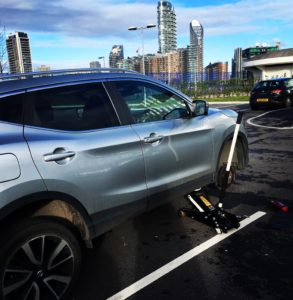 Tyre fitted to an Nissan Qashqai tyre in Greenwich, SE10.[/caption] A customer was staying at a hotel in Greenwich, SE London and they had a flat tyre on their Nissan Qashqai which needed to be changed by the following day at the latest as they needed to head back home to Wales. The tyre  fitted on their
Nissan Qashqai
was a 225/45/19 and as the customer had contacted us on a Saturday evening we were not able to fit it until the following day. The following day i arrived at the hotel where our customer was staying and located the car in the car park. I had given my arrival time prior to leaving so they customer was waiting by the car when i turned up.
Locking Wheel Nut Removal
One of the first things i ask prior to accepting a job is if the vehicle is fitted with locking wheel nuts and if so do they have the key. On this occasion even after being told that the locking wheel nut key was in the car, it was no where to be found, so the locking nut had to be removed. We have many tools for removing locking wheel nuts, but for this particular locking wheel nut we use a specialist tool which is called the `
Dynomec
`. We use different tools for depending on the locking nut, but on this occasion the
dynomec
was used and the locking nut was successfully removed.
New Tyre for Nissan Qashqai
Once we had removed the locking nut we then loosed the rest of the wheel nuts and removed the wheel, the Nissan Qashqai comes a few different tyre sizes depending on the model and year, some have 215/55/18 or 215/65/16, but some of the newer cars have 225/45/19 size tyres fitted. The wheel had a TPMS valve fitted which we dont replace and have to be careful with when removing the tyre, because it can break if the wheel isn`t positioned correctly when removing and replacing the tyre. After mounting the new tyre and inflating it to the correct pressure we have to balance it, an incorrectly balanced wheel can cause issues, such as vibration etc.. After completing the balancing its time to put the wheel back onto the car and torque the wheel nuts up to the correct settings. All done & now our customer can continue with their journey.
East London Tyres
helping motorists keep moving in London & Essex.