Porsche Cayenne Tyre fitted in Epping
Porsche Cayenne Tyre
Porsche Cayenne Tyre for customer in Epping, Essex. We were contacted by a previous customer for whom i had fitted a tyre on their Mercedes SLK many months prior. This time they had a flat tyre on their
Porsche Cayenne Hybrid
and needed a new tyre fitted. We spoke with our customer and they told me that the current tyres on their vehicle were Michelin Latitude sport. The tyres size was 295/35/21. They asked me to quote for an exact same tyre.
The
Michelin
brand is synonymous with quality tyres, their illustrious history, participation in motor sport and commitment to research and development shows that they are committed to producing quality products in the premium end of the market. Their Latitude range of tyres are developed for the SUV and 4x4 market segment. The Porsche cayenne has Michelins factory fitted or OEM. We were able to source the exact same tyre for our customer and we arranged a day and time to complete the job.
Porsche Cayenne Tyre Fitted in Epping
"We provide a mobile tyre service to our customers in Epping and the surrounding areas. W
e can come to your location for replacement tyre fitting and for puncture repairs.
Whenever we are asked to come and check a flat tyre we always ask for the the tyre size so that we can bring a
replacement tyre if needed as not all tyres can be repaired".
Once we had sourced the Michelin Tyre for our customers Porsche Cayenne, i arranged a time to come and  complete the job at their home. I arrived at the agreed day and time to our customers address in Epping, Essex. New tyre was fitted while taking care to avoid touching the TPMS valve which are very common on many vehicle rims these days. After checking the balancing i fitted the wheel back to the car and checked and adjusted all other tyre pressures.
For mobile tyre fitting in Epping and surrounding areas please call us on : 07966558652
[caption id="attachment_1337" align="alignleft" width="225"]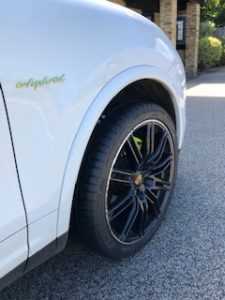 Porsche Cayenne Tyres fitted in Epping, Essex.[/caption] [caption id="attachment_1338" align="alignleft" width="225"]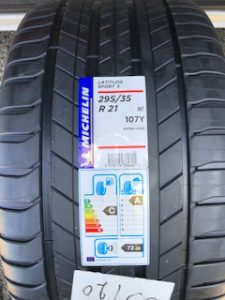 Michelin Latitude Sport Tyre for Porsche Cayenne.[/caption]