Mercedes GLA Tyre fitted in Catford SE6
Mercedes GLA Tyre.
"My name is `Rashid` and my company is `East London Tyres` we are a mobile tyre service.
We are based in East London and also cover the SE London post codes.
Our aim is to respond to any customer requirements in a timely and professional manner".
A customer was Driving their Mercedes GLA when the they hit a traffic island and damaged the rear off side tyre. Both front and rear tyres are 235/50/18. Whenever we receive a call in these instances the questions we ask are to confirm the tyre details (size etc..), location of the vehicle, is there a locking nut fitted to the rim and if so is the locking key in the car, is there any damage to the rim. Once we have the relevant information we can give the customer an ETA, with some jobs there isn`t as much urgency and the customer will tell us that the vehicle is parked outside their home and are happy to have the job completed the following day or we`ll arrange a day and time with them. But in most circumstances the need is of the hour and we`ll try and get on site ASAP. We had the tyre in stock and arranged to be with the customer within 90 minutes, they lived nearby and so asked us to call them 10 mins prior to arrival.
Once we were about 10 mins from where the vehicle was parked we let the customer know so that they could meet us. The damaged tyre was removed and a new 235.50/18 tyre was fitted and balanced. After fitting the tyre back to the vehicle i asked the customer to start the car so that we could reset the TPMS,  all was good, final duty was to check the other tyres and adjust the pressures accordingly. [caption id="attachment_1351" align="alignleft" width="300"]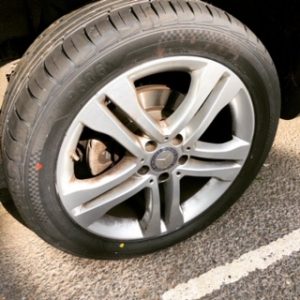 Mercedes GLA Tyre fitted in SE6[/caption]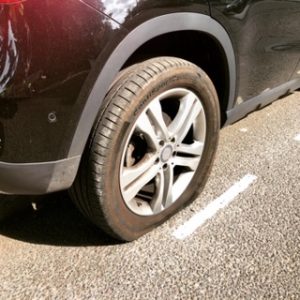 For Mobile Tyre Fitting in SE London please call us on : 07966558652.