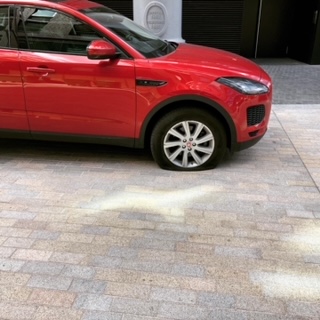 Jaguar E-Pace Tyre Fitted in N1
Jaguar E-Pace
Jaguar E-Pace tyre fitted in Kings Cross N1
My name is `Rashid` and my company is `East London Tyres`. We are a Mobile Tyre Service covering Kings Cross and surrounding locations within N1.
Many customers have used our service over the years, and we try our best to help with any tyre issues.
We will get any job done promptly and as efficiently as possible so as to leave a good impression!
Whether its for campervans, caravans, cars or vans we are at your service!
Goodyear Eagle F1 SUV Tyre
A customer had phoned us after clipping the kerb and damaging the front off side tyre on their Jaguar.
As a new vehicle we would expect a customer to opt for a like for like tyre replacement, at least that`s what we would advise.
When we spoke with the customer they informed us that the vehicle was parked outside their apartment in Kings Cross N1, and that they would need a tyre fitted at the earliest opportunity.
They gave us the tyre details and asked us to to supply the same tyre, which was a Goodyear Eagle F1 SUV
(235/60/18).
As the tyre needed to be ordered we booked the job in for the following day.
Mobile Tyre Fitting in N1
I arrived at their address in Kings Cross and located the car which was parked outside a block of flats.
I rang the customer who came down to give us the locking wheel nut key.
New Goodyear tyre was fitted and balanced and all other tyres were checked and tyre pressures were adjusted accordingly.
If you`re looking for a fast and professional mobile tyre service in Kings Cross and surrounding areas, then please call East London Tyres for a no obligation quote for new tyres and repairs.
Mob: 07966558652
Tel: 020 3488 5764