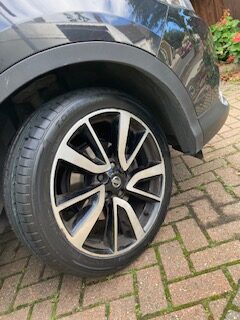 Home Tyre Fitting
Home Tyre Fitting
Home Tyre Fitting
My name is `Rashid` and my company is `East London Tyres`. We provide mobile tyre fitting to your home, work or roadside. We cover North East London and Essex.
Flat tyre!! and not sure what to do?. Don't worry, we know what to do!! New tyres or repairs, you can rely on us to get your vehicle mobile again!  Tyres for campervans, caravans, cars or vans, we are at your service in London & Essex.
Nissan Qashqai Tyre 225/45/19
A previous customer had hit the kerb and had to wait many hours to get their vehicle recovered back to their home.
The following day they called us to enquire about a replacement tyre for their Nissan Qashqai.
The Qashqai has a few different tyre sizes depending on the year and model, in this case the size was 225/45/19.
We informed the customer that the tyre was available and booked the job to be done ASAP which in this case was with an ETA of within the hour.
We arrived at the customers address and checked the tyre to confirm the size.
Once we had the locking wheel nut key we proceeded with the job.
The old tyre had a cut in the sidewall area after kerb impact, customer told me he had been driving while it was raining and dark with low visibility when they clipped the kerb.
The inside of the rim had a dent which occurred during kerb impact, i pointed this out to the customer and told them that they may get some vibration over a certain speed.
I advised on looking into getting the rim repaired or replaced at some time.
Wheel balancing was done prior to fitting back onto the vehicle.
Mobile Tyre Fitting East London
The job was in the Ilford area of East London which is close to our base.
We cover North East London and West Essex for new tyres and puncture repairs.
For any tyre enquiries please call East London Tyres on Mob: 07966558652 or Tel: 020 3488 5764.