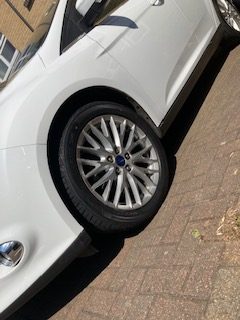 Ford Focus Tyres Fitted in Canary Wharf
Ford Focus Tyres
Ford Focus tyres in E14 When you have a car such as the 
Ford Focus
that's been in production for so many years, and has so many variants there will always be different tyre sizes depending on the year and model. Older model cars came on 15″ rims, then many models were on 16″ rims and even 17 and 18″ rims. So there`s no one size fits all scenario. Getting the correct tyre details is crucial, as we`re a mobile tyre service if we turn up with the wrong tyres then its a wasted journey for us and inconvenient for our customers. So we try our best to garner the correct information from the outset, especially if its a long journey to the customers location. We received a call from an elderly customer who had 2 tyres that needed to be replaced, the car was parked less then a mile from their home. The issue was that they didn`t know the tyre size not even what the rim size was. I asked them for the vehicle registration so that i could get an idea on the probable tyre sizes for that particular model of 
Ford Focus
. After checking the registration online i had an idea on the most likely tyre size, but couldn`t be 100%. I just had to take a chance to help our customer. They were less then 10 miles from my base so worse case scenario would be that i would make a second journey if need be. I told the customer that i would bring a few tyres and hope that they would be the correct ones. I gave them an ETA and booked the job.
Mobile Tyre Fitting in Canary Wharf
I arrived at the exact location where the car was parked and was met by our customer. The tyres on their car were 215/50/17, and to our relief we had the correct tyres on our van. We told our customer to make a note of the tyre details for future reference as it will save a lot of hassle. Both tyres were fitted and balanced, and all other tyres were checked and pressures were adjusted accordingly. We were happy to get our customers car back on the road! For a friendly and professional 
Mobile Tyre Service
 in Canary Wharf and Docklands please call 
East London Tyres
 so we can assist you!
Mob: 07966558652
Tel: 020 3488 5764