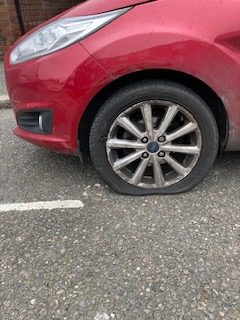 Ford Fiesta Tyres Fitted in Hackney
Ford Fiesta Tyres
Ford Fiesta Tyres Fitted in Hackney E5
Hi, My name is `Rashid` and my company is 
`East London Tyres`
. 
We are your local Mobile Tyre Service covering The Borough of Hackney.
Many customers have used our service over the years and we do our best to assist with any tyre related issues. We will get any job done promptly and efficiently, from fitting tyres to puncture repairs. Whether its for Campervans, Caravans, Cars or Vans, we are at your service, Home, Work and Roadside! When you think of the most common cars on Britain`s roads, the ubiquitous 
Ford Fiesta
 is right there at the top of the list, alongside 
Vauxhall Astra
, 
Ford Focus
, 
Vauxhall Corsa
 etc.. When you`re dealing with the most popular cars its imperative to have stock of the most popular tyre sizes for these cars. Some of the most commonly used sizes of tyres are, 205/55/16, 195/55/16, 195/65/15, 195/55/15 etc.. We got a call from a customer who had broken down in the E5 area, he had been driving when he heard a load bang, when he got out of the car to check, the tyre was completely flat with a hole in the side. I asked him if had hit anything, and they couldn`t recall how it happened. I got the necessary details including the tyre size which was a 195/50/16. Customer needed the tyre replaced before they finished work. We agreed on a time and the job was booked in for later in the day.
Mobile Tyre Fitting in Hackney
After arriving at their location i fitted the new tyre and checked all the others. Our service is to get your vehicle back on the road as quickly as possible! For a fast and professional local 
Mobile Tyre Service
 in Hackney please contact 
East London Tyres
 for assistance with any tyre related issues!
Mob: 07966558652
Tel: 020 3488 5764