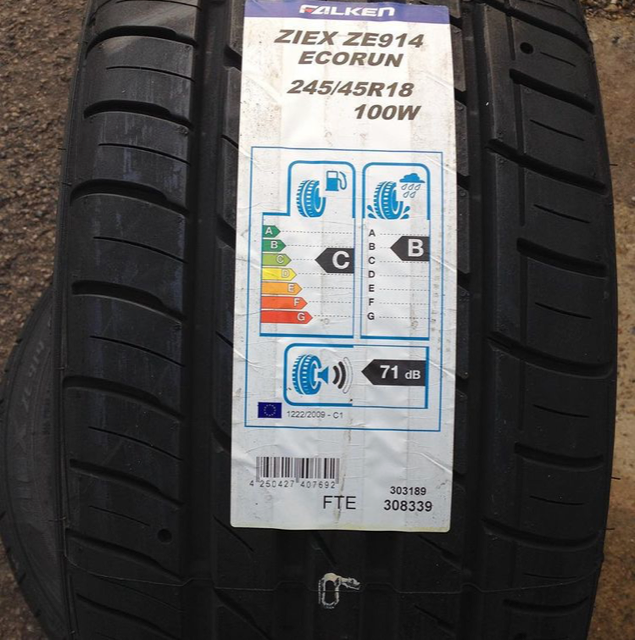 Falken Tyres for Nissan 350z in IG7
Falken Tyres for Nissan 350z
Falken Tyres come from Japan, they are fitted to many performance cars. A customer of mine called me just 2 days before Christmas and told me he needed a set of tyres for his Nissan 350z, his preference was for some premium brands such as Goodyear & Dunlop, but he needed matching front and rear tyres and this was no easy task due to availability so near to Christmas. After much searching i came across the Falken ZE914, these were available in both front and rear sizes, the fronts being 225/45R18 and the rears being 245/45R18. I put this to my customer and he was happy to go for the Falken`s. My customer had kept the original wheels for his Nissan 350z in his garage, and they had laid there for a couple of years. The wheels on their car were an aftermarket set which were fitted with low profile GoodYear tyres, but these were now to be removed and the original set put back on with the new tyres. Because the original wheels had been in storage for a couple of years, the tyres that they they were fitted to had hardened over time to the point that they had become like run flat tyres, there was no flex in the rubber at all, and it was a mission to remove them from the wheels, but with a lot of effort and plenty of tyre paste i succeeded.
Falken tyres, manufactured in Japan. Established in 1983. Affordable high quality summer and winter tyres for cars, vans and 4x4 vehicles. Falken promote and continuously develop their products through motorsport, they are also OEM fitted by many vehicle manufacturers. If you`re looking for affordable high performance tyres please feel free to contact
East London Tyres
on : 07966558652 or 020 3488 5764 for advise and a no obligation quote.