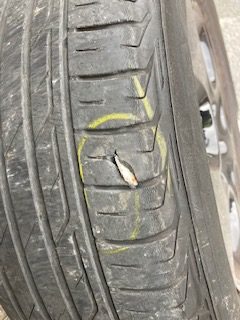 Emergency Tyre Service Near Me
Emergency tyre service. My name is `Rashid` and my company is `East London Tyres`. We are a mobile tyre service covering North East London & Essex. Most motorists at some time will have had some mishap with a tyre or tyres on their vehicle. Flat tyres due to a puncture or tyre damage after hitting the kerb or pothole etc.. Whatever the circumstances, the main thing is to get it sorted ASAP so that you can continue with your journey. The first port of call in an emergency maybe a roadside breakdown service, i.e, AA, RAC, Greenflag etc.. These companies aren`t a tyre service, even though some are equipped for tyre changing. If its a question of urgency then you`ll need a mobile service to come and fit a tyre at the roadside. At East London Tyres we will endeavour to get you back on the road in no time at all!! We are part of a network of independent mobile tyre fitters, where we can`t assist then we'll put you in touch with one of our network partners.
Emergency Tyre Service
The most useful tool to have at hand in the event of a tyre breakdown is not a wrench or a jack, but the mobile phone. Off course there will be many of us who will have no issues with fitting the spare if its actually available, but many cars don`t have it. You may get a tub of liquid sealant and a compressor, but this of no use if there`s a cut in the tyre sidewall. `Emergency Tyre Replacement Near Me` is a term that is commonly used in search engines i.e. Google when trying to to connect with a tyre service. Rest assured that if you've had a tyre emergency and you contact us we`ll do our level best to get you mobile again. Please remember that if you`re looking to have a tyre changed these are some of the questions that get asked, this is not a comprehensive list, just the main often asked ones.
Your Location
Cause of damage, i.e, did you hit the kerb, puncture etc..
Is there a locking wheel nut fit & if so do you have the locking wheel nut key
Tyre size, i.e 205/55/16, numbers indicating the size are embossed on the side of the tyre
Make & model of vehicle
Are you safely parked, are you in a car park, at home, on the roadside
For an Emergency Tyre Service in North & East London, please contact us for a no obligation quote. Mob:07966558652 Tel:020 3488 5764.