Emergency Tyre Repair
We provide an emergency tyre repair services to our customers in East London and West Essex. But before we attempt to repair a tyre we thoroughly we thoroughly check it first to ascertain the cause of the leak, i.e..a sharp object such as a nail or screw may have penetrated the tyre, or a damaged valve, corrosion on the wheel etc..
Rest assured that we will thoroughly check your tyre, if its beyond repair, then we will replace it with a new one.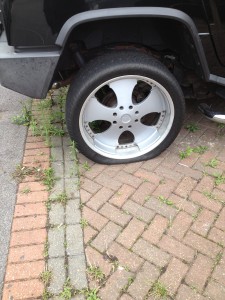 Reasons why a tyre might not be repairable.
Below are some reasons why a tyre might not warrant a repair:
Tyre is perishing due to age or cracking
Internal damage due being run on
Exposed cords
Low tread depth
object that has penetrated the tyre is more then 4mm wide.