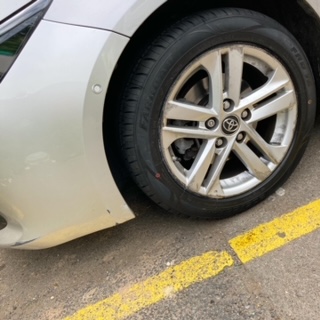 Budget Tyres for Toyota Corolla
Budget Tyres for Toyota Corolla
Budget tyres fitted to customers
Toyota Corolla
in N22. When customers call us and urgently need tyres its not always possible to offer specific brands of tyres. Instead, we can offer budget tyres as these are readily available in our stock. If customers are at the roadside with damaged tyres, then their priority is to get back on the road ASAP! A customer called after hitting a traffic island and damaging both near side tyres on their Toyota Corolla hybrid. The tyres were a very common size of 205/55/16. Quote was given for 2 budget tyres along with an ETA. Customers will either confirm right away or will call us back. In this instance we received confirmation to supply & fit 2 new budget tyres (205/55/16). Before we take a job where there has been impact with a sold object we will ask questions to ascertain the conditions of the rims. In the past we have attended jobs where a tyre couldn't be fitted as the rim was to badly damaged. We will ask occasionally ask for photographic proof of the condition of the rims. On this occasion rims were fine and we gave an ETA.
Mobile Tyre Fitting North London
The customer was located within the borough of Haringey in the N22 postcode area which had an ETA of 30 mins. Once on site, the first thing we ask for is the locking wheel nut key. Both near side tyres were replaced with new ones. All other tyre pressure were checked and adjusted accordingly. Where tyre pressure sensors are fitted we ask the customer to start the car to check for the low tyre pressure warning light. The warning light was on and it was reset prior to the customer driving off.
East London Tyres
East London Tyres
are your local mobile tyre service for North East London and Essex. If you`re in need for tyre fitting at the roadside please call us for assistance. Mob: 07966558652, Tel: 020 3488 5764.