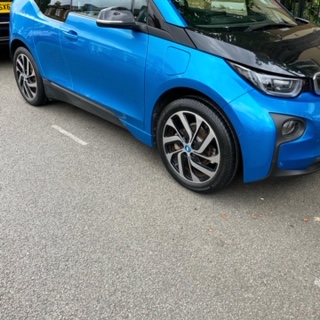 BMW i3 Tyres fitted in SW19
BMW i3 Tyres-
Bridgestone Ecopia
Fitted in SW19
My name is `Rashid` and my company is
`East London Tyres`
. 
We are a mobile tyre service.
Our base is in East London but we cover many areas of London. Where we`re not able to help you on the same day we will endeavour to help you the following day. We can supply, fit and balance most brands of tyres for cars, vans, trailers and caravans. We had a customer in the SW19 area who needed all four tyres changed on their BMW i3. The most common brand of tyres for the i3`s are `Bridgestone Ecopia`. Front and rears sizes are also different, on this car the fronts were 155/70/19 and rears 175/60/19. The customer told us that it was not urgent as none of the tyres were flat or damaged, but they were getting low on tread. We told our customer that we would have the tyres in a couple of days, and once we have them we`ll call to arrange a day and time for fitting.
Tyres fitted in SW19
Once i had received the full set of
Bridgestone Ecopia
tyres i informed our customer and we arranged a time and day for the fitting. Our customer had told me that he would not be home, but someone would be there to give me the cars keys, this is so that we can get the locking wheel nut key and also to reset the TPMS on completion. We arrived at the agreed time and got they car keys. We got the locking wheel nut key and began to loosen the wheel nuts. The Bridgestone tyres on the i3`s are very thin and light, these sizes of tyres are almost exclusively for these cars. All four tyres were fitted and balanced, inflated to the correct pressure and wheel nuts were torqued. Final check is to make sure the TPMS is reset, this is done from the info system, but the vehicle then has to be driven for a few minutes so that the sensors are recognised by the computer.
If you`re in the market for new tyres please contact us for a no obligation quote. Mob:07966558652 Tel:020 3488 5764.